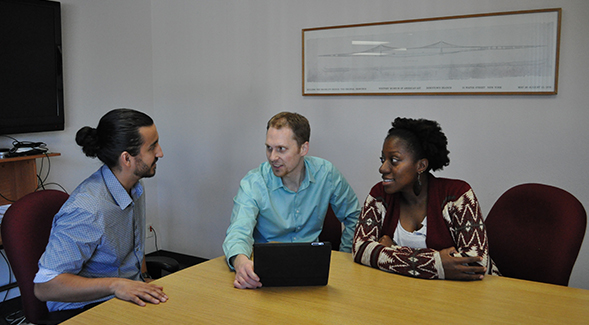 Professor Daniel Reinholz, works on the EQUIP app with two doctoral students, Amelia Stone-Johnstone and Antonio Martinez.
Created by SDSU and Michigan State University, the app also helps teachers be more intentional when eliciting student participation.
How can mathematics become a more diverse and inclusive field?
One way is to ensure the subject is taught fairly to all students, something that is not happening in most American classrooms, according to a recent National Science Board (NSB) report.
NSB found factors such as socioeconomic status, gender and race have a large impact on student success in math, largely because of teachers' own biases. The 2018 report found, for example, that teachers falsely perceive differences in math ability—based on student demographics like gender—as early as elementary school. That false perception impacts how they manage their classrooms.
A team of researchers has created an open-source tool to promote the fair and inclusive teaching of math. The web application, called EQUIP (Equity Quantified in Participation), tracks student engagement in an effort to help teachers be more intentional when eliciting participation and responding to student ideas.
"Math can be very non-inclusive sometimes, and seeing the inequities has made improving the system a motivation for my work," said Daniel Reinholz, a San Diego State University mathematics education professor.
Reinholz created EQUIP with Niral Shah, a former graduate school classmate at the University of California, Berkeley, and now a professor at Michigan State University.
The tool tracks demographics and classroom participation on several levels, including some very granular ones. Teachers can customize EQUIP to track everything from the type of questions students answer, to how long a teacher waits for students to respond to questions, to the tone the teacher uses with students.
The app also analyzes the data and highlights patterns in student participation and teacher behavior, highlighting which students teachers are engaging and how that engagement plays out in the classroom. It can also track student participation over time, revealing how student performance in class may correlate with participation.
"Issues of equity and implicit bias can be really subtle, and teaching math is really complex," Reinholz said. "Teachers leading complicated tasks with advanced math have a lot to keep straight. Keeping track of who is participating and how is a really high cognitive load, even for the most experienced teachers."
To use EQUIP, teachers first record their sessions. Then, a user watches the recordings and inputs participation data into the app. The app creates detailed analytics teachers can use to inform their practice, and academics can use to advance their research.
"The app allows teachers to be more intentional in how they lead their classrooms," Reinholz said.
EQUIP is used in schools across Michigan as part of multiple National Science Foundation-funded projects to study equity patterns in classrooms; and by organizations like Carnegie Math Pathways in California to evaluate the efficacy of professional development programs.
Haley McNamara, research coordinator for Carnegie Math Pathways, used the web app over an entire term, aided by a team of research assistants, to evaluate how community college instructors engaged students after participating in professional development. EQUIP allowed Carnegie to study the effectiveness of its programs, while at the same time providing valuable data to teachers on how they could further improve their classroom engagement.